About Us
Development, Change, Advancement, Growth, Rise, & Progress
Bringing the inside to the outside…
one woman at a time, one family at a time, one step at a time
Founded in 2017 by Jacqueline Polverari, Evolution Reentry Services is a comprehensive Criminal Justice services organization that is committed to helping justice involved women and their families as they navigate through the criminal legal system rebuilding their lives…one woman at a time and one family at a time.
Evolution Reentry Services, through its unique and nationally unduplicated programs and its coordinated and collaborative partnerships with numerous statewide agencies/community service providers and organizations, has built a non-violent justice impacted community-based reentry platform that provides for a smooth and seamless transition into society for women convicted of a non-violent felony,  whether currently in prison,  coming directly from incarceration or already residing within the community.  Evolution has also built the first family bonding program for families impacted by the criminal justice system.
By pulling together all resources, organizations, and programs into one coordinated effort, Evolution Reentry Services allows for cross-networking, collaboration, cohesion, and a stronger service model for those who are justice involved and rebuilding their lives.  Through this model, Evolution Reentry Services is dedicated to helping women and their families affected by the Criminal Justice System who are left with social, and trauma related mental health issues.
Headquartered in Connecticut, Evolution Reentry Services is dedicated to continuing to expand its vast network for justice involved women and their families throughout the country every year.  This reentry initiative will encourage service providers and State stakeholders to focus on providing long-term solutions to complex issues related to successful community reintegration for a woman returning from incarceration that otherwise would not have any support network.
A key to the success of Evolution is change, development, growth, rise and progress.  We are dedicated to that personal Evolution by educating the community about what it takes for a justice involved women to successfully reenter society.  In particular, Evolution Reentry Services stresses the importance of helping women find careers, housing, transportation, financial freedom, credit repair and offer mental health services and nutritional balance to gain ultimate freedom.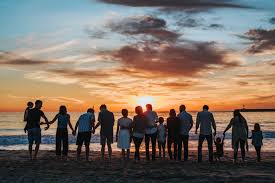 Our Team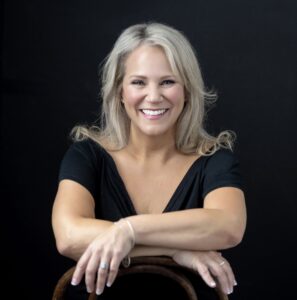 Jacqueline Purcell, MSW, MSCJ
Executive Director
Founder of Evolution Reentry Services, Jacqueline is a leader with over 25 years of proven successes in mentoring and therapeutic environments and criminal justice reentry.  She uses her professional expertise and sociology background to dedicate herself to improving the policies and practices affecting women who are justice impacted. Jacqueline specializes on Criminal Justice Advocacy, Reform and Reentry services specializing in trauma as it relates to justice impacted women and their families.  Jacqueline is also a Restorative Justice leader working to heal people affected on all sides of the Criminal Legal System.
As a sociological researcher she continually researches the effects incarcerating women has on families and children.  She is a 2022 JustLeadershipUSA "Leading with Conviction" fellow and also recently founded Criminal Justice Cafe, a podcast to educate communities about the realities of the criminal justice system helping to change the stigma of justice impacted individuals. Jacqueline is an active member of the National Association of Social Workers, American Sociological Association, and The Sociological Research Association and speaks at conferences and symposiums throughout the country regarding the criminal justice and prison system.  Jacqueline holds memberships in the Connecticut Community Nonprofit Alliance (2022), Connecticut Business & Industry Association (CBIA), The New York City Justice Ombudsman Advisory Board, The New Haven Reentry Roundtable, The American Land Title Association and has been a Member of the International Alliance of Theatrical Employees (I.A.T.S.E Local 74, New Haven Chapter) for 27 years.
Jacqueline holds master's degrees in Business Administration and Social Work and a Bachelor of Arts in Sociology.  Most Recently she graduated Summa Cum Laude from Albertus Magnus College where she earned her master's degree in Criminal Justice with a Concentration in Correctional Administration with Honors.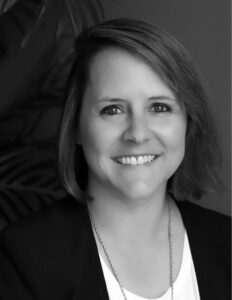 Ashley Furst, MS
Technology Director 
Ashley has joined Evolution Reentry Services after spending 10 years in the Marketing & Communications world with various non-profits.  In her role she spearheads our second chance hiring efforts creating meaningful and sustainable employment opportunities for other justice impacted women.  As a woman who is justice impacted, she understands that finding a job after incarceration is one of the most critical factors of successful reentry.  Ashley regularly volunteers to go back into prison with the Breakthrough program in Colorado, working to show the men and women that are incarcerated that they are more than the worst mistake they made on the worst day of their life. Ashley also holds a MS in Marketing from Johns Hopkins University and a BS in English from Towson University.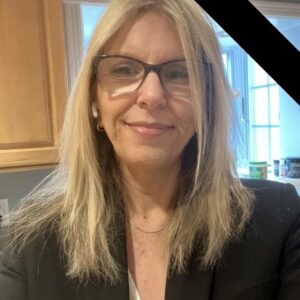 Penni Parker
Women's Support Group Facilitator
Penni joined Evolution Reentry in 2019 leading our Women's Justice Impacted online weekly support group. Penni's experience working with trauma culminated through her own personal journey of life and through the criminal legal system. She has since used her professional and personal expertise along with her business background to dedicate herself to other women who are justice impacted and seeking support. Penni has focused on Criminal Justice Advocacy and Reentry services specializing in giving support as it relates to women and their families relating to incarceration. Penni speaks weekly at several social and criminal justice roundtables throughout the New England region.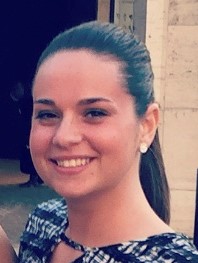 Alexa Polverari, MBA
Support Services for Children of Incarcerated Women
Alexa joined Evolution Reentry Services as the first young woman in the country to provide support services for children of women who are going through the criminal justice system. Alexa is uniquely equipped to help children & young adult women whose mothers have been impacted by the Criminal Justice System. Through different emotions and stages of grief that she encountered while a teenager through her college years when her own mother went through the criminal justice system and was then taken from her for a brief time, she is able to provide a one-of-a-kind peer support. Only someone who has been through such trauma could understand the loss a child or young adult feels when there is a separation due to parental incarceration. Alexa earned her master's in business Administration at Nichols College and coaches high school softball in her spare time.
Bill Livolsi
Family Support Group Facilitator
Bill joined the Evolution team in 2021. He is our weekly online Family Support Group facilitator.  Bill and his wife (former) were prosecuted for a white collar crime from 2010 to 2015. Their two children together were 10 and 8 at the time of their sentencing in 2015. He served 13 months in federal prison and returned home in 2020. Bill is also a volunteer with Progressive Prison Ministries (prisonist.org) and he has been a member of the Ministry's White Collar Support Group since its inception in 2016.  All though his journey Bill experienced first hand what a criminal prosecution and incarceration can do to a marriage, to children, and to mothers, fathers, sisters and brothers. They are the collateral damage of the criminal justice system. Bill is able to offer a unique perspective and support to others who are on this journey.  In 2021, Bill opened White Collar Coaching whose sole purpose is helping men and women facing prosecution and incarceration, including the return home. White Collar Coaching was founded on a simple, but powerful, premise: Using proven coaching techniques clients develop realistic and effective plans that address the issues specific to their unique situation, no matter the stage of their journey they are at (pre/post sentencing, while incarcerated, reentry).
You can reach out to Bill directly at blivolsi@evolution.com 
Lynn Espejo
Policy Specialist
Lynn Espejo lives in Sherwood, Arkansas.  She is a wife, mother to three grown sons and a very old and spoiled French bulldog.  Lynn has a BBA in Accounting and a BBA in Finance and will graduate with her MS in Clinical Mental Health Counseling in May 2021.  She spent many years working in the corporate business world and has owned her own small business.   Lynn is a Christ follower.  She also volunteers her time working with food pantries, the homeless, and those less fortunate.   She and her husband, Pancho, volunteer their time helping with their church's Share Your Lunch program.  SYL, since its inception in 2017, has provided over 20,000 bags of groceries to individuals and families, as well as weekend backpacks of food to elementary age children, in partnership with local schools in the Central Arkansas area.
Lynn was indicted in the Eastern District of Arkansas on March 2, 2011, however, that indictment was dismissed in May 2012.  She was indicted on the same charges on October 8, 2014, after she refused to give up claim to monies seized by the federal government during her 2011 indictment, and dared to complain all the way to Washington, D.C., regarding the corruption and prosecutorial misconduct she experienced from staff at the US Attorney's Office in the Eastern District of Arkansas. She was convicted on February 8, 2017, after an eight-day jury trial, and was sentenced to 45-months in federal prison, of which she served 27 months, before being released to home confinement during COVID-19.  Her blog, Inside-The-Walls, started out as a way for her to vent her frustration at being indicted and convicted for a crime she did not commit, and what she saw as a broken criminal justice system.  However, it soon became a voice against the corruption, fraud, and violation of inmate rights she witnessed while incarcerated at Federal Prison Camp Bryan located in Bryan, Texas. Many times, Lynn was subjected to retaliation by BOP staff for continuing to blog while incarcerated.   
During her incarceration, Lynn taught classes to other inmates, including classes on women's value, worth, and self-esteem.  She also volunteers tutored inmates with their college business classes, worked as a clerk in the Reentry Department, and took Cosmetology classes.  She gained recognition from other inmates for her knowledge of BOP Program Statements, which allowed her to help many women fight false incident reports and retaliation by BOP staff.  During COVID-19, Lynn was quarantined in the Men's Maximum-Security Special Housing Unit (SHU), at the Federal Transfer Center in Oklahoma City, Oklahoma. 
Lynn continues to advocate for inmates and their rights and wishes to help all women realize their value and worth.  She wants to bring awareness to, and expose the corruption, that is our country's criminal justice system.  Lynn's radio show Inside-The-Walls & Beyond focuses on women's issues as they journey through the criminal "injustice" system.  You may contact Lynn at lynnespejo@sbcglobal.net or through her blog https://insidethewallscom.wordpress.com.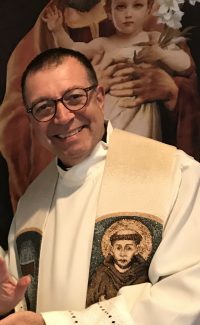 Rev. Dr. Joseph Ciccone
Lead Pastor, Saint Joseph Mission Church
Fr. "Joe" is a Priest in the Order of Franciscan Servants and a graduate of Union Theological Seminary in the City of New York with a Master of Divinity Degree in Ministry and Pastoral Care. He is currently assigned to Saint Joseph Mission Church, bringing the Gospel to those in the margins and to people in need wherever they may be. Joe is in his 6th year of CPE (Chaplain Program) at the Jewish Theological Seminary in NYC. And prior to that he spent four years at Saint Miriam Friary in PA where he was ordained after his own trauma related experience with the criminal justice system. Fr. Joe's mission on the Move began in New Jersey in 2016, accepting all people without judgement. Thus far Fr. Joe has married nearly 800 couples, baptized so many of the children and some of the couples has married. He makes countless hospital visits and gives the anointing of the sick, brings the sacraments to the home bound, the lost and broken and those who needs God's love but have been hurt by the traditional church. Fr. Joe has dedicated his life to helping those across the globe and is indeed a mission moving everywhere.
Jeffrey Abramowitz, J.D. 
Workforce Development & Education Contributor
Jeffrey Abramowitz, J.D. is a contributing force to Evolution Reentry Services offering his input and expertise in partnerships and workforce development.  He is the Executive Director of The Petey Green Program and past Executive Director of Justice Partnerships and Executive Director Reentry Services for JEVS Human Services and the founder and Program Director of Looking Forward Philadelphia Reentry Program. Jeff proudly sits on the Executive Board of the Coalition on Adult Basic Education, COABE, where he serves as Secretary, and chairs the State Advocates for Adult Education Fellowship Program. Jeff was appointed to the Pennsylvania Reentry Council and serves as Chairman of the Employment Committee and Co-chairs the Reentry Committee for the PA Workforce Development Board and serves as the Chair of the Philadelphia Reentry Coalition.
Jeff is a subject matter expert for the US Department of Education, is the Moderator for the US Department of Education LINCS Community of Practice on Correctional & Reentry Education and works on the IET in Corrections Project for OCTAEE.  Jeff sits on several organizational boards and centers his work in the intersection of adult education, workforce development, and justice.
Jeff is the producer and host of the award-winning weekly radio/television show "Looking Forward" on Philly Cam Radio WPPM 106.5FM and PhillyCam TV (Live Streaming; Xfinity 66/966; Fios TV 29/30; Roku; Apple TV), and Co-Host/Producer of the Behind Every Employer Podcast.